[vc_row inner_container="true" bg_color="#e8f5fa"][vc_column width="2/3″]
The Credentialing Process: Explained eBook
In this free eBook, we break down the oftentimes confusing, opaque, and intimidating process of provider enrollment. If you've ever felt befuddled by the steps in getting on insurance panels, this guide is for you!
[/vc_column][vc_column width="1/3″]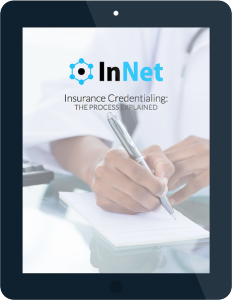 [/vc_column][/vc_row][vc_row inner_container="true" border="horizontal"][vc_column width="1/2″]
---
Our aim when creating this eBook, The Credentialing Process: Explained, was to make it comprehensive, while still being easy to understand. Accordingly, within the 10-page guide, you'll find:
The basics for understanding what provider enrollment means.
Timespans and breakdowns of activities in each of the three phases of the credentialing process overall. Including:

Application aggregation and research
Submitting and shepherding credentialing forms
Contracting

Two options for easing your provider enrollment journey.
What are you waiting for? Just fill out the form to the right and get your free eBook right away!
[/vc_column][vc_column width="1/2″]
Fill out the form below to get your FREE copy:
---
[/vc_column][/vc_row]